Duncombe Bear treks to Borneo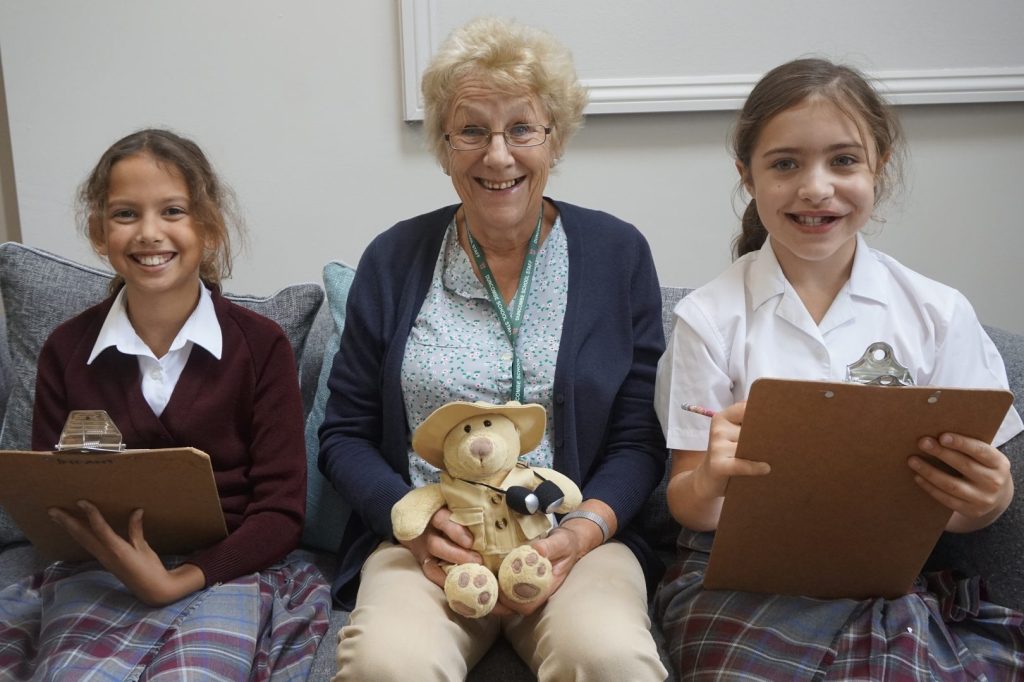 Duncombe Bear and Mrs Tramontano took some time out of their busy schedules to discuss their recent summer adventure to Borneo. Rosie and Grace from year 5, had the pleasure of interviewing the intrepid explorers. We were desperate to find out all about DB's latest escapade. As DB was feeling slightly tired from the trip, Mrs Tramontano kindly answered all our questions.
Grace: Where exactly is Borneo?
Mrs T:Well we did not know where Borneo was until we planned our trip there! Borneo is in South East Asia. It is quite a big island. I did not realise quite how big it was until we arrived there. It is an island which is two and a half hours from Malaysia.There is also a difference in climate, which is quite surprising.
Grace:Where did DB get his smart explorer outfit?
Mrs T:I think Mr Thomas kindly bought it for him.
Rosie:How long were you in Borneo?
Mrs T:We were there for one week.
Grace:Was it sunny?
Mrs T:In the mornings, it was sunny but by lunchtime, horrendous rainstorms came down with thunder and lightning. We needed to wear welly boots.
Rosie: How did DB cope with the climate?
Mrs T:He found it very hot and humid especially with his fur but the rain was very refreshing. He enjoyed venturing out in the rain as it helped keep him cool!
Grace:What did you do whilst you were in Borneo?
Mrs T: Well we visited the orang-utan centre. We learnt quite a lot there. Many orang-utans in Borneo are kept in sanctuaries because of the deforestation of the jungle. The trees are being cut down to make palm oil, which is found in everything. Some of the orang-utans are left as babies as their mothers die when the trees are cut down. They cannot look after themselves. Until orang-utans are six years old they are dependent on their mums feeding them.
So we decided to go to the Sepilok Orang Utan Rehabilitation Centre. They find the poor babies who have been left all alone in the rainforests. The sanctuary keep them in a very large enclosure and look after them. They teach them how to do things that they would do in the wild; like swing from trees and feed themselves. In some of the pictures, you can see a large orang-utan we saw. The older orang-utans are free to roam around, hence why we found the rather large one wondering along a fence, fully grown. Some are a bit naughty and go into shops! One night, we went for a nighttime walk with torches. The warden took us into the park and it was pouring down with rain. We were searching for the orang-utans and we couldn't find any, however when we walked out through the reception area, hanging from the rafter was an orang-utan! Then in the doorway was another orang-utan, just sitting there because he did not want to be in the rain.
Rosie:What did DB enjoy most on his trip to Borneo?
Mrs T: He particularly enjoyed visiting the orang-utans because he felt quite close to them. When we went on a riverboat safari in another area where we were staying, we saw some in their natural environment. We saw a flash of orange swinging through the tops of the tree. That is where they live and sleep, unless it is raining of course! Also he really enjoyed seeing another bear in the enclosure. I think his most enjoyable experience was seeing the sun bear in an enclosure.
Grace: What experiences will you always remember?
Mrs T:Going into the jungle and doing a jungle trek and most of all the leeches. Have you heard of leeches?
Rosie and Grace: Yes!
Mrs T:They are tiny, little, squirmy things and if you get one on you, they suck your blood and get bigger and bigger.
Rosie:Did that happen?
Mrs T:Luckily, I didn't get any leeches on me because I had to wear special clothing; you have to cover your arms up and tuck your T-shirt into your trousers, and you have to wear bags over your feet that stretch to your knees. You tie them up and slip some wellies on so the leeches cannot get in at all!
Rosie:Did DB try anything new?
Mrs T: Whilst we were away, we also went on a bike taxi, which involved a man who rides a bike whilst cycling you along. There are various different ones but I went on a Batman one for my grandson's sake. However, I saw one with teddy bears and I quickly positioned Duncombe Bear with the other bears so he could meet some nice lady teddy bears.
Mrs T: I have forgotten one important thing! Whilst we were in Borneo, we did some good deeds. The company that I travel with, Exodus believe in giving something back into the communities that we visit. So Duncombe Bear and I, planted a tree. For every tree that is cut down, Exodus wants to replace the tree. In the area we were staying, we had to paint a plaque. We wrote 'Duncombe School, Great Britain, '17'. Duncombe Bear and I planted this tree, so if you every go to this place in Borneo, you will see the tree that we planted for Duncombe School.
A huge thank you to Mrs Tramontano for not only taking Duncombe Bear to Borneo with her, but also for answering so many of our questions.
What will be DB's next adventure?

Published on: 19th October 2017