DB on trains, planes and automobiles!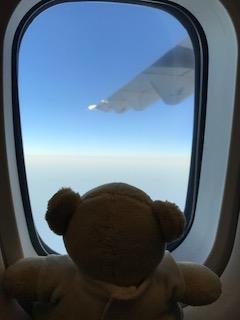 This week I have been enjoying an 'overseas' training camp with Mr Le Tissier. I've been on trains, planes and automobiles! To be honest, I was fairly underwhelmed with my first flight on an aeroplane – 20,000 ft just doesn't cut it when you've been to space! I did get to see a nice sunset though.
I finally arrived in Guernsey, an island between England and France, where Mr Le Tissier is from.
This however, was no holiday, Mr Le Tissier and I did many training runs around the coast of the island and I even got my paws wet with a bit of beach running.
I am back in the UK now and looking forward to seeing you all after the last of the Easter Holidays. Not long left now until I run the London marathon for cancer research – I'm so excited!
Mr Le Tissier and I would like to say a big thank you to all of you who have sponsored us, it really makes a big difference and spurs us on to do our best!

http://uk.virginmoneygiving.com/thomas-le-tissier-SAVMLMBONDS3332017-86629380
Virgin Money Giving | Fundraising | Thomas_Le Tissier_ZVMLMA542017uk.virginmoneygiving.com
Published on: 13th April 2017