Football Fun!

One of our Year 5 children had the experience of a lifetime last week, when she took part in filming a TV drama. Read all about her day below.
"On Friday the 22nd of January, I went to a filming company called Warner Brothers to film an episode of the Sky TV drama 'Ted Lasso'. Here is my story:
I had to get up at 4am, because the filming was in Barnes in South London with a 7am   filming start! I was really looking forward to going.
When I arrived the rules about social distancing were shared and it was still dark and I was freezing! It was at least an hour and a half before the hair and makeup people came and did their job I had to have 'mud' put on my face and football boots!
After this, I was taken to a costume department and I had to put on a very thin top and bottom skins, black shorts and a sky blue football shirt, number 22, which they let me keep at the end! I was not used to wearing football clothes; I am more of a netball kind of girl!
Next, my dad and I had to go across the road with the other children and their parents to start the filming. It was now light and when I arrived on set, there were LOTS of people (directors, the cast, producers, light and sound technicians and many more!) there, working. It was incredible to see how many people actually work on a television programme set and all the different jobs they do!
It was still freezing, and so they gave us hand warmers and blankets to keep us warm. My dad was pleased as a nice woman brought us bacon rolls and hot tea – he said he could get used to the film star life style! After 4 hours of filming and the director shouting 'Action' and 'Cut' regularly, we stopped for lunch. It was a very tasty linguine brought over by the same lovely woman!
After lunch, I played some football, nearly tackled someone and almost scored! By this time I was very hot, not cold one bit!
At 2pm, filming was complete and the production company said we could all go home. It was a very exciting, tiring but extremely interesting day and I loved the experience! Unfortunately, I cannot tell you what happened as the storyline is top secret but if you tune in to the next series of Ted Lasso you'll find out!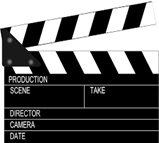 Published on: 29th January 2021