Music Assembly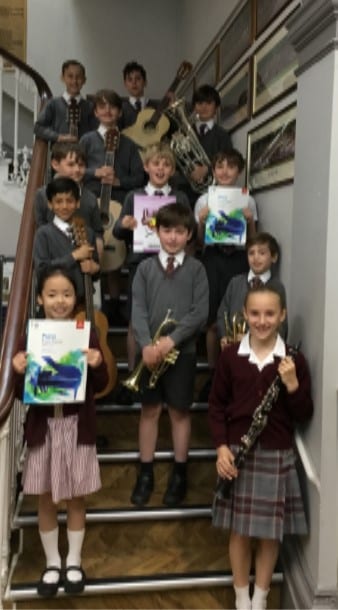 This morning we were treated to a musical recital by some of our talented performers from throughout the school.
Georgiana F opened the show with a stunning clarinet performance of Talkin' the Talk, a jazzy number full of contrasts between staccato and legato playing and showing off some exceptionally fast fingering. Hexia Y then played Who Said Mice? on the piano demonstrating good  movement over the keyboard and lovely dynamic contrasts. Monty D then played Circle Dance, also on the piano, a  confident performance with really sensitive melodic awareness.
Aidan E was next, performing Magic Flute on the guitar. He played with great confidence producing a lovely tone from the strings. Toby F followed, also on guitar, with an accomplished rendition of Dancing Shadows. This was a rhythmic number and Toby showed some incredibly fast fingers over the frets, capturing the slightly 'bluesy' feel of the piece very well.
Our vocalist was next, Luca M, who sang Out in the Garden. This was a gentle piece which showed off the clarity and accuracy of Luca's singing very well – a lovely performance.
Next was Jamie L, who is our only baritone player in school at the moment – an honoured guest indeed! He played a medley of familiar tunes producing a great, clear sound. Jamie R followed on the cornet, playing The Barley Break which showed off his super control over his breathing with gorgeous long notes. James S then played The Echo on the piano, demonstrating sensitivity over the keys and good control of the dynamic changes in the piece.
He was followed by Keanush S-L who played the traditional song Ines on the guitar, capturing the Spanish feel beautifully with some really lovely fingering. Next was Freddie M who showed off some driving rhythms and incredibly fast movement over the strings in his performance of Aquarelle. Xavier M-L then played Basse-Dance on the cornet. This was a piece with strong Tudor-style rhythms which demonstrated excellent control of his breathing and a lovely clear tone.
To close the show we had Maya D who played Two Guitars on the violin. This was a piece of technically challenging contrasts; bowing and plucking, loud and soft, fast and slow. She produced a superb performance capturing the mood of the piece beautifully. Highly accomplished.
This was a really lovely concert and, as always, it is sowonderful to see the progress the children are making.
Our thanks to all the family members who were able to attend, to the instrumental tutors for their dedication and, as  always, to the incredible Mrs Turner for her flawless accompanying.
Published on: 20th May 2019