Music Assembly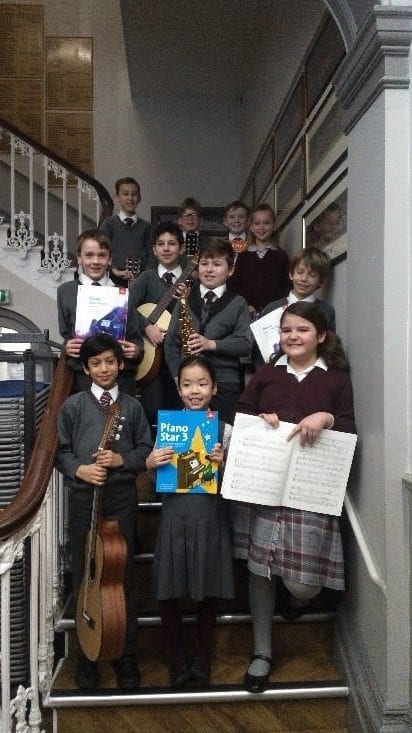 For our last Music Assembly we were treated to a wonderful display of musicianship from some of our talented young performers. Thomas H opened the show with Castanets on the piano.  This was a lively Spanish number with driving rhythms played with great skill.  Toby R played next, also on the piano, performing Asian Tiger with natural confidence and a great feel for the oriental style of the music.
Charlie C then played O When the Saints.  This is a familiar favourite and Charlie played with lovely control, his left and right hands working well together. William B opened the guitars with Folk Song demonstrating a great awareness of the melody.  He was followed by Aidan E, also on guitar, who performed O When the Saints with a nice pace and accurate pitching.  Maya D then sang for us with a beautiful performance of Sing a Rainbow sung with a dreamlike quality to her voice.
Then it was back to the piano with James P playing La Foret, showing good dynamic control between the right and left hand melody lines. Hexia Y was our final pianist, playing Cherry Blossoms.  This was a piece in a Japanese style which Hexia performed with a gorgeous light touch perfect for the mood.  Another guitar piece followed, with Toby F performing the enchanting Moderato demonstrating his every-growing prowess on this instrument with a delicate touch and haunting melodies.  Keanush SF then performed Mona Lisa, also on guitar, full of energy and brightness.  Bella BM then treated us to another song performing Pirates with great skill.  Her high notes were clear as glass!
Our final performer of the morning was Thomas H, this time on the saxophone.  Thomas treated us to an exceptionally accomplished rendition of From the Sixties.  This was a technically challenging piece which showcased a talent well beyond his years. The thunderous applause he received was thoroughly deserved! Our thanks to all of the instrumental tutors for their support and encouragement, to Mrs Turner for her flawless accompaniments and to all of the family members who came to support their children.
Mrs Sutton, Head of Music.
Published on: 29th April 2019