Music at the Heart of Duncombe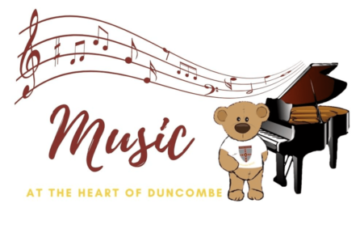 Our second Music Assembly of this academic took place on a Friday 26th November, and even a cold November morning couldn't dampen our spirits. We were treated to a range of performances on piano, guitar and flute, along with some outstanding singing.
Our Music Captain, Ellis, opened the show with an outstanding performance of 'Trade Winds' from the grade 5 syllabus. This was a challenging piece with several time changes and lots of movement through the whole range of his voice, and it was sung with the skill and confidence of a performer twice his age. Truly impressive. Chloe sang next, with a tremendously confident performance of 'Let Him Go, Let Him Tarry'. This was acted and sung brilliantly and had the audience in stitches.
Moving to the flute, Estelle played two pieces: 'Amazing Grace' and 'Rondo A La Turk'. These contrasting performances really showed off both her lyrical musicality and technical skills, with both long, graceful notes and fast-moving passages.
A budding composer performed next: Evie played her own composition, 'Call of the Wild'. This was a hauntingly beautiful melody that Evie moved around the keyboard, echoing the patterns delightfully. Also on piano, Fraser then played 'Ferris Wheel', with both hands working together to create a lilting tune. He was followed by Dylan, whose performance of 'Firefly' showed a delicate touch on the keys. Apollonas played next, with a bouncy rendition of 'Old MacDonald Had a Band', which our younger audience members were tapping along to happily.
Moving to the guitars, Samuel performed 'French Dance', a tune dating back to 1494. This showed some complex fingering and a great sense of melody – really lovely. Josh then played 'Waltz' – not only on a borrowed instrument, due to a broken string – but also completely from memory! An astonishing feat of musicianship. Our next performer was Zoe, who played 'Spider' for us. This demanded a lot of movement up and down the fingerboard and was played very skilfully. Our final guitar was Adam, playing 'The Forest Wakes'. He displayed great control of his instrument keeping the dynamics just above a whisper – you could have heard a pin drop.
We then returned to our singers, with Nelly performing 'Scales and Arpeggios' which had her voice dancing up and down as though it were skipping over the notes. Gracie then sang 'The Perfect Nanny', capturing the confidence and musical theatre style of the piece very well. Our final performer was Lucy, who sang 'Sky Boat Song' with great emotion and lyricism. A truly lovely way to end our little concert.
Well done to all of our performers, especially those for whom it was their first concert. You were amazing! Our thanks, as always, to our incredible team of Peri staff and to all the family members who were able to come and support.
Mrs Sutton
Director of Music
Published on: 29th November 2021