SPACE WEEK!
What a superb 'Space Week'! The whole school took part in an abundant range of space themed activities throughout the week. Lessons ranged from meteor showers in PE to playing 'Walking on the Moon' by The     Police using Boomwhackers in Music!
Early Kindergarten and Kindergarten enjoyed a week of activities based on the     story 'Whatever Next'. The children learnt about space through role play, dance, exploration of moon dough and collaging rockets. Nursery enjoyed literacy, art and maths activities based on 'Aliens Love Underpants', even their Labtots session was space themed! Reception focussed on 'Back to Earth with a Bump', counted aliens and had a special visit from their Buddies. Together they created beautiful planet suncatchers, which are hanging in the windows of Treetops.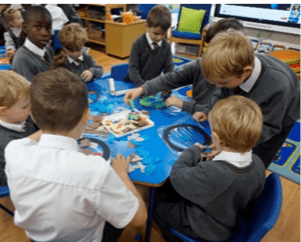 Lower School had a fantastic week learning about amazing astronauts, designing space rockets and writing about what they could see through their spaceship window. Year 3 created a space themed dance and Year 1, as a whole class, produced the most stunning rockets, in the style of Mondrian, if you get the chance go and have a look!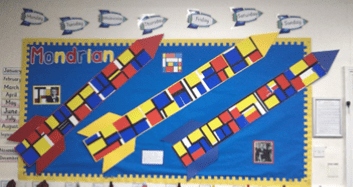 Upper School had numerous space themed lessons. In English, the children wrote creatively using some fantastic space imagery as a stimulus for their writing. During maths, Year 4 found the distance of the planets from the sun and used a ratio of 1 piece of toilet paper = 50,000,00km to make a model. They particularly enjoyed using calculators. Year 6 created some very impressive constellations using protractors to accurately measure the   various angles and draw them precisely.

Year 5 and Year 6 had a fascinating space talk from Bob Ferguson. Bob is a Structural         Engineer with over 20 years of space craft experience. He captivated the children with many interesting facts about all things space and shared his own experiences with them of various projects he has worked on for Airbus. In Science, during a chemistry lesson, Year 4 created 'Fizzy Planets'. They made a chemical reaction by mixing an acid (vinegar) with an alkali (bicarbonate of soda). They were very excited to see the bubbles of carbon dioxide! Year 6 were given the challenge to design and make a manned spacecraft to land safely on Mars. They rose to the challenge and I was extremely impressed with how they worked together as a team to complete the task. We will be testing their incredible designs next week!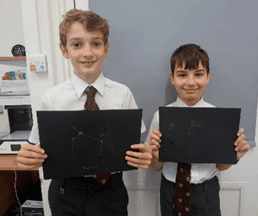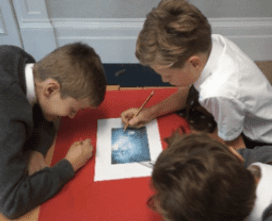 We have enjoyed this week immensely and in true Duncombe style, children and staff have fully immersed themselves in the great vacuum of Space Week!
Mrs Ferguson
Published on: 17th October 2019