Duncombe Dragons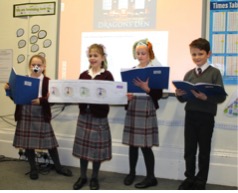 Flying bikes and umbrellas for dogs were just a few of the ideas Year 5 were trying to gain investment for from the 'Duncombe Dragons' in class today.
Similar to the popular TV show, the children had to research an invention, present to the class (some in rap music form) to obtain investment money for a percentage of their company.
Watch out Dragons Den!
Published on: 22nd January 2017